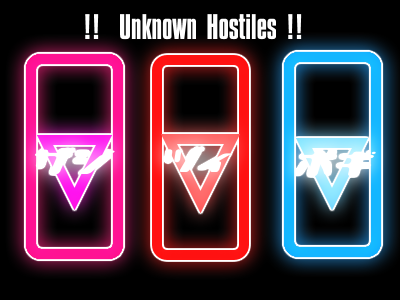 This is a placeholder.
I would definitly recommend trying to clear everything on 7th style first. It makes the other games easier.
[3:20:20 AM] Thayer: All of the Cardinal Gate songs are on 16-2.
[3:20:29 AM] Thayer: Only one that isn't is Nageki.
[3:20:38 AM] Thayer: I think even Kachoufuusetsu is on there.
[3:20:55 AM] Thayer: !
[3:20:59 AM] Shopkeeper: Wasn't Nageki just on the first disc instead, though?
[3:21:05 AM] Thayer: Hey that gives me an idea. (and yes.)
[3:21:31 AM] Thayer: What if we had like a superboss for every stage if you cleared it under a very difficult time/efficiency?
[3:22:00 AM] Thayer: Give them only like one shot at it. and pretend like nothing happened.
[3:22:09 AM] Shopkeeper: That'd be cool.
[3:22:14 AM] Thayer: We could do a cardinal gate type of thing, where you get to pick one of like 3.
[3:22:21 AM] Shopkeeper: I'd rather label it as a challenge boss, though.
[3:22:25 AM] Thayer: And once you clear all of them you get the secret boss.
[3:22:58 AM] Shopkeeper: And save the name superboss for like...character specific, once per game style bosses
[3:23:02 AM] Thayer: I wouldn't even bother labeling them, I'd just stick up three different symbols with different colors.
[3:23:25 AM] Thayer: Like a hidden mechanic.
[3:23:40 AM] Shopkeeper: Clearing them would be a good prerequisite for getting to the actual super boss fight.
[3:23:43 AM] Thayer: Right.
[3:23:54 AM] Thayer: Let me crudely draw something up really quick.
[3:25:30 AM] Shopkeeper: that way newer players don't accidentally get wrecked by some Ozma level shit. XD
[3:27:11 AM] Thayer: Right. It'd be really hard to even get to the secret bosses anyways. Make it where you need to get like 98%+ Efficiency under a certain time on a certain stage.
[3:29:37 AM] Shopkeeper: I also kind of want to be nice and allow saving before the super boss fight.
[3:29:53 AM] Thayer: I kind of don't. XD
[3:30:01 AM] Thayer: But that's what voting and playtesting are for.
[3:30:58 AM] Shopkeeper: I just know people will most likely bitch about it if we only give them one try and them make them replay a bunch of shit to get back to it.
[3:31:16 AM] Shopkeeper: Might let them save, but give them multiple tries for it
[3:31:37 AM] Thayer: I think if you are good enough to get there, you'll have the motivation to finish it.
[3:31:45 AM] Shopkeeper: True
[3:33:24 AM] Shopkeeper: I think we might be able to implement a checkpoint system
[3:33:35 AM] Shopkeeper: where if you die, you can continue from the checkpoint
[3:33:55 AM] Shopkeeper: but make it limited to 3 continues
[3:34:33 AM] Shopkeeper: then give some "checkpoint data corrupted" message and make them do the whole stage over
[3:35:16 AM] Shopkeeper: that way they can get a couple mulligans to see a bit of the mechanics for that before giving it a real shot
[3:35:37 AM] Thayer: And let them keep their times and shit?
[3:35:42 AM] Thayer: Yeah, I could agree with that.
[3:35:57 AM] Thayer: We need to make a post in the forum about some of this stuff.
[3:36:12 AM] Thayer: Did you see those?
[3:36:13 AM] Thayer:
http://holybeast.board-directory.net/
[3:37:03 AM] Shopkeeper: The stage time for getting to a challenge boss should continue from when the player died, to make it possible to get it on a continue, but very difficult.

Eagle

Admin




Posts

: 26


Join date

: 2015-03-03



I like the idea of no continues or check points. It adds another level of replay value and frustration that keeps people playing.

I'll add more thought when I get out of bed.

Lion

Admin




Posts

: 3


Join date

: 2015-03-03




Similar topics
---
Permissions in this forum:
You
cannot
reply to topics in this forum